Results-- 10 to nature energy. FUCKING A-- mastered Nature Control. 12 to Endurance. 9 to Strength.
---
Time had passed in the jungle as late afternoon came. The sky had began to turn orange as the sun set to the west. Chigatsumi and Bloody Mist were set up around nearby in the jungle, both of them keeping an eye out for food.
Asura at the moment kept to himself-- split off from the two tigers. Mostly because they wouldn't shut up. In his opinion, the two brothers probably didn't catch much with their yapping. However, he did know they were capable of it when push came to shove.
If Asura didn't catch anything, he wouldn't get dinner-- a good motivation to master the techniques he learned. Crouched on all fours, he hid within the shade of the canopy and bushes nearby. Before, he would of been wary of every plant and animal in this jungle, but now he was strangely at ease to be there. It was as familiar and comforting to him than his own home. Any kind of threat or danger he was wary of was now gone in his mind.
Softly, a small rustle stirred. Asura opened his eyes and through the pushes spotted it. A large boar-- no a Tapir scrummages through the grass. Asura almost felt bad as he saw the size of the animal, no more than a few years old. He normally hated to kill it, but it had to be done. One thing he learned about nature, it was all about survival. To not kill it, was to die yourself. He gave a small mental apology, and knelt lower.
He was on all fours as if to crawl-- in short he was crouched low. His body stance almost seemed cat like as it was as his eyes were locked on the target. Even though he looked tense-- his body was loose and completely still. ALmost unconsciously, nature energy moved through him as he was now fully still. He didn't make a sound or movement-- and the Tapir continued to sniff at the grass and nibbled on it.
So enlaced with the natural energy, Asura was undetected. It was as if he was silent to everything and everything. He kept that way for a few minutes till the Taper turned to have his back to Asura.
He snapped open his eyes-- no longer showing his normal red pupils but now orange and black pupils--- like that of a real tiger!
SLASH!! KRRROW!!
A blur of movement caused the forest to come alive a second later. Nearby birds flew off, but the action was done.
The Tapir laid dead, with a clear slash made across its side to its neck. It was a swift and merciful kill, happening so fast the animal likely felt little pain.
From afar, Vidav and Byakko could sense and see Asura in a small gap in the trees. THey saw him, and looked in both surprise and awe. "He has done it..." Vidav said.
Boss Byakko growled in approval. "He is one of us, now."
In the clearing, the humanoid figure stood beside his kill. His body was now different-- his skin now a deeper shade tanned. Strange white markings ran over his back , arms and to his face like tiger stripes. His hair also was lighter in color. Though the move would exhaust most people, Asura stood there calm and at ease, as if the execution of the taijutsu didn't cost a thing.
His breath was more of a growl as Asura stood there. The nature energy rippled within his limbs, and made him feel strong. He struck almost out of sheer instinct and now had complete control of its flow in his body. His eyes glowed with an amber fire of a tiger as he looked out before him, his body transformed.
In a blur of motion, Vidav appeared nearby in the clearing. "Well done, Asura," Vidav said and smiled. "On behalf of the Blood Vale Tigers, you are now officially one of us."
The intense look on Asura's transformed face changed as he became aware of Vidav and turned to him with a perplexed look. "Huh? Wait, what are you talking about?"
Vidav said nothing and just wove a hand sign. Like before, he created a mass of water and it took shape into a flat, reflective surface as a mirror. As the image became clearer, Asura soon saw himself, and how his appearance had changed.
"U-huh? Wow..." Asura gasped.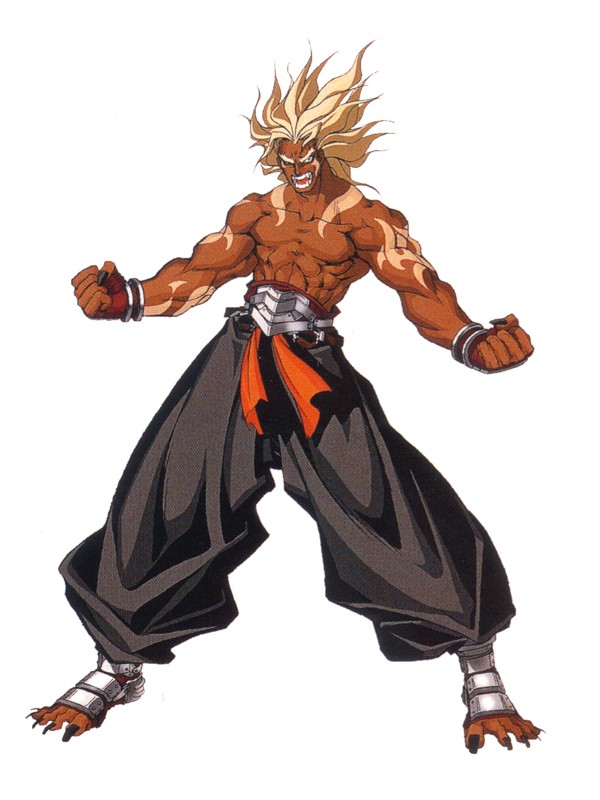 Asura looked in surprise as he saw himself look completely different, even though he felt normal if not stronger. "This is... me?" He slowly turned around, observing the strange white markings on his body that resembled tattoos or stripes.
"That is because of Sage mode," Vidav said and stepped out from behind the mirror. "Your body is now transformed with the force of Nature Energy. Your strength, speed, reflexes and senses are now enhanced in this state. Unlike the transformations before, this is a manifestation of your nature energy completely balanced, with at least some tiger aspects. "
Asura saw himself again in the mirror straight on, and smiled. "I can live with this... I look pretty cool too," he said and smirked, noticing a small growth of canines there as well.
"You're ninjutsu and taijutsu will also be amplified from this state as well. There is still plenty to learn though, regarding Nature Energy, so don't get too ahead of yourself," Vidav said with a smile. "You have mastered Nature Energy control. That was the hard part. Now, you must learn the jutsu and skills to utilize them. "
Asura let out a sound, almost like a purr or growl but it was his own eagerness and excitement. "Great! Let's get started!"
This time, a full laugh escaped Vidav as he walked over and gave Asura a pat on the shoulder. "Now now, take a moment. You have mastered Nature Energy, obtained Sage Mode, and became the first true Tiger Sage," the tiger said with the joy of an old man's revel. "I think that is cause for celebration, don't you?"
Asura calmed himself and smiled back. "Heh... okay. Glad at least I got some dinner." he then picked up the now dead tapir, and held it under his arm.
"Heh, well then you will be surprised. We will train more in Sage arts later, but for now. Rest, celebrate," Vidav said and turned around, encouraging Asura to follow him. "You have more than earned it."
Asura's body slowly transformed back-- his sunkissed skin returned and so did his red hair. Even his nails, for a moment longer, now returned to normal. The furious demeanor of his Sage mode melted away, to his smile. "Thank you, Lord Vidav".
The rest of the night, the tigers reveled the celebration. They feasted, played and cheered for Asura-- the first human sage to be among them as one of their own.
And for the first time in a while, Asura truly felt like he was home.
Thread End.
Total word count: 2489